Complete your CBT with KRTS
24-year-old Dan Mason from London headed to Phoenix Motorcycle Training, Crystal Palace, a Kawasaki Rider Training Services training body to complete his Compulsory Basic Training on two wheels.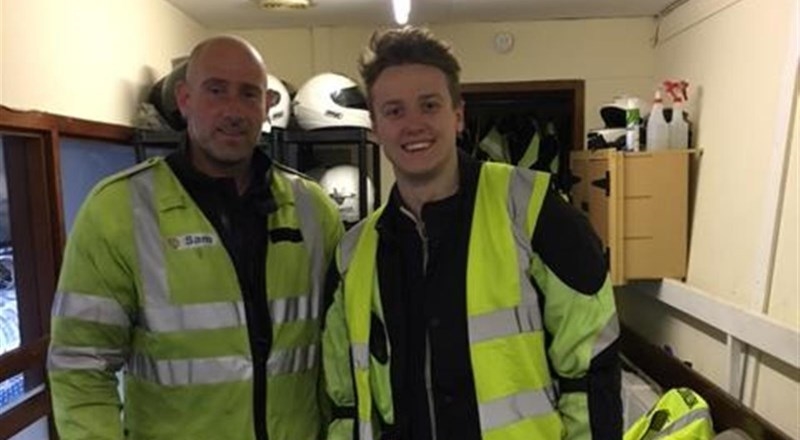 Getting on two wheels is something I'd always wanted to do – from a very young age motorcycles had interested me – I just thought they were so cool - and even more so since riding bikes while I was travelling in Australia.
 "I looked for a school near me and booked in with Phoenix Motorcycles Crystal Palace. The facility was nice and quiet – the sunshine was a bonus. There was lots of space for practicing manoeuvres for the first part of the CBT and the bikes we were on were modern and well maintained. There were eight people doing their training the same day as me with various instructors. I practiced with two others and then there were two of us out with an instructor for the road section.
" Dan was looking forward to some elements of the CBT more than others…
When I went out the first time, I kept stalling the bike as my clutch control wasn't great – I don't drive a car so had no experience of it in any form. My instructor, Marc, was brilliant and asked me to take out a note from my wallet. He placed it between my hand and the clutch lever. The premise was that if I released my hand too quickly then the note would fall and I'd lose my £5, so that helped me concentrate!
 
"The instructors made the training fun and they really knew their stuff. It's neat little tricks like the one with the £5 note that help you relax and gives you a different way of learning.
 
"I found it challenging to think about everything you had to do every time you stopped. I guess it's natural once you've done it a few times but when you're learning it's difficult to remember everything. However, even by the second time I went out, I was more confident and was able to put everything I learnt together. Strangely, the more I relaxed, the more went right.
 
"The feeling of riding the bike and knowing what to do next was great – I took it all in my stride and it just flowed. As time goes on and I ride more, I know that it will feel even more natural. I can't wait."

Now that he has his CBT under his belt, what's the plan? 
"My plan is to buy a bike and get some miles under my belt. I'm allowed to ride a 125cc geared machine, so I'll stick on that for a few years and then depending on how much use I get out of it, I'll look to do my full test. I live in central London and currently commute by cycle so a motorised version will make things much quicker!
 
"My best piece of advice for someone going to take their CBT? Really listen to your instructor. They know their stuff and they're great guys – they want you to complete it and go home with your certificate as much as you do."
 
For more information on the Kawasaki Rider Training Services and to find your local school – or send the details to someone you think may want to get on two wheels – visit:
www.kawasaki-krts.co.uk